Great Day's new line of Hunting Accessories for golf cars provides an easy solution for golf car dealers
looking to accommodate their customers with quality hunting upgrades for their golf cars. Many golf cars do not come standard with a lot of hunting accessories on them.  So, naturally, as hunting season gets closer, golf car owners start to research and add new products to their golf cart for hunting.  This is where golf cart dealers have an opportunity to capitalize at their Point Of Sale on a new or used golf car, thus adding profit exponentially to their dealership, which arrives over and above the normal floor plan capabilities. With this in mind, one of the main factors that makes the Great Day brand an easy choice for a dealer, when it comes to choosing hunting accessories for a golf car, is being able to order the hunting product in less than container load quantities, and to rest assured that the R&D, fitment, and customer service will be handled by professionals. Great Day's dealer pricing is easy to understand and can be made available to the vast network of golf car dealers.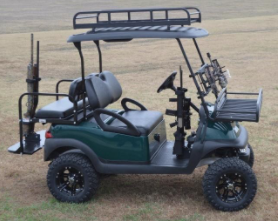 Gunracks
Bowracks
Hitch Mounted Cargo Carriers
Front Racks
Roof Racks
Regarding market coverage, golf car dealers will also find it advantageous that the upgrade/hunting accessories market for golf cars is not a crowded market in the physical stores nor the online retailers, as many of the accessories sources listed now are limited to only a small number of accessories for hunting, and often times may not be able to fulfill due to shortages of imported product. Thus making a domestic source like Great Day Inc. a wise choice when it comes to quantities and also order-timing.  Typically the need for a hunting upgrade to a golf car is facilitated by a consumer that asks for a certain product that the dealer doesn't have access to or that they need for certain hunting seasons. For an OEM golf car manufacturer looking to accessorize their fleet, Great Day Inc. provides several trending products to help meet the demand of the OEM dealer floor plans as well.  
For More Information about Great Day Inc, A US based manufacturer,
please call 1-318-574-5003 or visit online at www.greatdayinc.com.
Originally seen on Golf Car Advisor